Summer is here in the US and while the heat is certainly in full swing, we can't help but revel in it all. We hope that you've been able to enjoy some time outside, soak up some sunshine, and savor the beautiful moments. We're delighted to present our fourth installment of Slice & Stitch for 2020 and are honored to be continuing this amazing partnership with our friends at OLFA.
Every other month throughout 2020, we'll publish a new Slice & Stitch post. With each new installment, one Aurifil Artisan + one OLFA Ambassador will receive the same products with the challenge to make one new project to share with all of you. The twist this year is that we're sending everyone the Aurifil Color Builders. Since there are only 6 Slice & Stitch posts and 12 Colors Builders, we'll be featuring 2 Color Builder sets per month. The Aurifil Artisan will receive one and the OLFA Ambassador the other. In addition, our friends at Michael Miller Fabrics have graciously provided coordinating fabric solids from their Cotton Couture line.
So, without further pause… let's dive in!
JULY CHALLENGE PARTICIPANTS
Michael Caputo AND Kimberly Bucki
PRODUCTS
OLFA: 7″ Serrated Edge Stainless Steel Scissors
AURIFIL: Tuscany Color Builder (Michael) & Capri Color Builder (Kimberly)
MICHAEL MILLER: Cotton Couture Solids in Melon, Apricot, Lava (Michael) & Mist, Luna, Lagoon (Kimberly)
Michael of patchwork&paper and Kimberly of @kimberly_design each brought such stunningly unique projects to the table this month. We're absolutely in love! We're excited to showcase Michael's project here, and don't miss more about Kimberly's project over on the OLFA page. Enjoy a bit of color inspiration!
---
So earlier this year, before all the chaos happened, I reached out to Erin at Aurifil when I saw that they were doing Slice and Stitch again. True to form, I was a bit late and all the slots were taken. Erin kindly reached out to a fellow Artisan who had participated in the 2019 challenge and she was kind enough to let me have her spot. So… that is when all the planning began. Planning not for what I actually ended up making but planning cool fun things that I thought would work well. They may still work well, someday…  but early this summer, my 6-year-old son was watching some YouTube videos and out popped "I want a bird!" As that was certainly not happening, it did prompt me to remember that I still needed to make something new for my July project.
Soon after I got my spot on the 2020 Slice & Stitch team, a package arrived with the trio of amazing threads from Aurifil.  The Tuscany Collection is a beautifully warm and soothing range of oranges. I also received coordinating fabrics from Michael Miller and a lovely Olfa 7″ Serrated Edge Scissor.
What does a paper engineer do when pushed? He reverts back to what he knows. So I turned to Pinterest and found a great designer who makes paper sculpture birds. The light went on and off I went. Patrick Kramer is from Germany and designed this Eurasian Wren.
Because my new scissors are for fabric only, I decided to make use of my die cutter. I took Patrick's file and redrew all the shapes and removed the glue tabs as I didn't think I would need them. My thought was to use a medium single-sided interfacing, trace out the shapes, and cut them with my new Olfa scissors! That was a fail!
Thought two was to die cut each facet of the bird's shapes and do some EPP.  Because everything is a funny shape triangle, I kept getting all of these tails and couldn't get the pieces to look nice when they were attached.  FAIL #2!!
After adjusting the files for the 3rd time, I thought 'why can't I just build it as he'd intended', but this time I would attach my new fabrics and stitch over them with my fancy new threads. I finally found a winner! The die cutter made quick (ish) work of all the pieces and as they were coming out I started my planning and prepping for each section of my Wren.
Out of my closet came my roll of The Warm Company's 'Lite Steam-A-Seam 2' and off I went. I peeled and placed my fabric to the SAS (Steam-A-Seam) and then traced out the sections of the birds body. The new Olfa scissors are amazing! You can literally feel each serrated cut. That is how precise they are.
I started adding layers of fabric from the collection and added a few from the stash that just fit perfectly (don't tell anyone)! After the fabric was attached to the paper structure I used the silky smooth Aurifil threads to do some decorative stitching.
I started with the head of the bird and then worked my way down towards the body. Using the paper version I made as reference for all of the folds, I marked the colors and fabrics so I wouldn't mess it up.
After the several failed attempts, I found that the hardest part was bending the legs. Literally! I picked up some copper wire which may have been too thick, but I made it work. With pliers in hand and a vengeful rage I tried to bend and twist the wire into something that resembled legs.
I think he turned out pretty cool. Haydn has already requested more birds so he can rummage through the stash bins and pick out colors.
Haydn has yet to name him but I haven't officially given the Wren to him yet. Tomorrow is another day!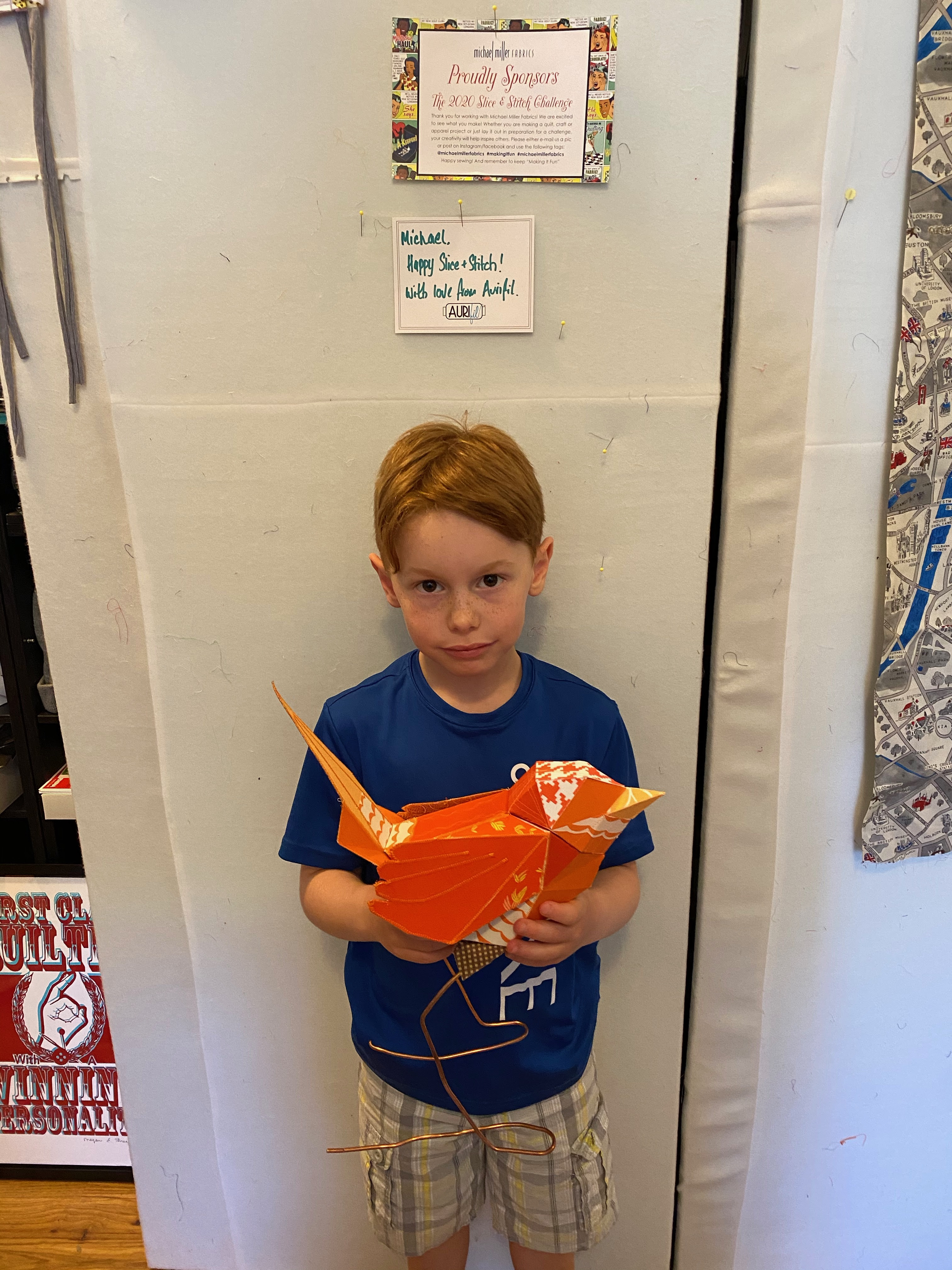 Happy Stitching,
Michael
Patchwork & Paper
---
Head on over to OLFA's blog to check out Kimberly Bucki's project and don't miss our next Slice & Stitch Challenge for 2020 coming up in September!
---
ABOUT MICHAEL
Website —  Instagram
Michael Caputo is originally from NYC and found his way to Apex, NC by way of London, UK with his wife and son 4 years ago. While in London, Michael truly discovered his love of quilting. He began designing quilt patterns for magazines in 2014 and has used Aurifil thread on each and every project. In 2016 Michael was asked to write and create his first quilting book for beginners called "Quilting Basics". He has been featured in numerous magazines both here in the US and also in the UK. He released his new book, "Modern Quilting", in late 2018 with 25 original projects aimed at the intermediate quilter.
Michael uses his experience in Book Design and Paper Engineering to create and design his own patterns. With influence from things all around, he uses both Adobe Illustrator and some quilting software to manipulate basic shapes and layouts to suit his own design needs. In 2019 Michael was announced as a Bernina Ambassador and AccuQuilt Go Getter.